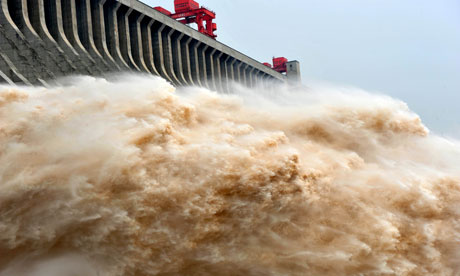 Floodwater is discharged through the Three Gorges Dam in central China's Hubei Province. Photograph: Du Huaju/CorbisRecord high water levels are putting the capacity of China's massive Three Gorges dam to the test after heavy rains across the country, compounding flooding problems that have left more than 1,200 people dead or missing.
The dam's water flow reached 56,000 cubic metres per second (1.96 million cubic feet), the biggest peak flow this year, with the water height reaching 158 metres (518 feet), the official Xinhua news agency reported. This is about 10% less than the dam's maximum capacity.
Chinese officials for years have boasted the dam could withstand floods so severe they come only once every 10,000 years. The dam is the world's largest hydroelectric project.
Floods this year have killed at least 823 people, with 437 missing, and have caused damage worth tens of billions of dollars, according to the state flood control agency. More heavy rains are expected for the south-east, south-west and north-east parts of the country.