By Marcus Baram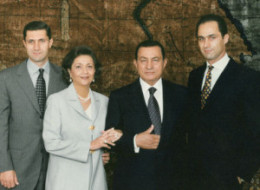 A tourist in Cairo spots three photographs on the wall of a restaurant: one of Nasser, another of Sadat, and the third of Hosni Mubarak. He asks the owner who the first man is, and the owner tells him it's the man who overthrew the Egyptian monarchy and served as the country's president. "Who's the second man?" the tourist wants to know. "That's Anwar Sadat, our next president," comes the reply. "He made peace with Israel but was assassinated in 1981." Next the tourist wants to know who the third man is. "Him?" says the restaurant owner. "That's my business partner's father" – A popular joke in Egypt
NEW YORK — In his first speech to the country, the new president of Egypt promised "not to commit myself to what I cannot implement, hide the truth from the people, or be lenient with corruption and disorder."
That was Hosni Mubarak in 1981, taking the reins of his proud country in the wake of Anwar Sadat's assassination and expressing a determination to steer Egypt in a new direction. During a crackdown on profiteering by politically-connected wealthy businessmen, Sadat's half-brother and his sons were jailed and handed steep fines. Several dozen prominent members of Sadat's circle were slapped with criminal charges for misusing their power and other corrupt practices. Mubarak was known for his "rigid personal probity," according to a 1990 New York Times profile, which noted that "his family has not profited from his office."
But over the last 20 years, Mubarak, his family and his close circle of advisers have enriched themselves through partnerships in powerful Egyptian companies, profiting from their political power, according to numerous reports. The 82-year-old leader and his two sons also wield the levers of the government, including the military and the country's preeminent political party, to reward friends and punish enemies.
Mubarak — who stepped down on Friday in the wake of massive protests that have gripped Cairo and Alexandria for weeks — and his family have a net worth of at least $5 billion, analysts tell The Huffington Post. Recent media reports pegging the family fortune at between $40 and $70 billion are considered to be exaggerated.
Much of their fortune has reportedly been invested in offshore bank accounts in Europe and in upscale real estate. On Friday, Switzerland froze accounts possibly belonging to Mubarak and his family, a spokesman told Reuters, under new laws governing ill-gotten gains. Last month, the Swiss froze the accounts of Mubarak's ally, ousted Tunisian president Zine El Abidine Ben Ali, whose overthrow inspired the first protests in Cairo.
[more…]