By Jamie Doward
Victims' lawyers condemn 'scandalous' defence that Catholic priests are not legally employees of the church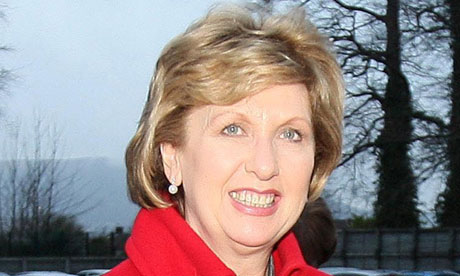 The Irish president, Mary McAleese (right), has reminded the church of its 'stated objective of putting children first'. Photograph: Paul Faith/PA
Victims of sexual abuse by priests will no longer be able to sue the Catholic church for damages if a landmark judgment rules that priests should not be considered as employees.
In a little publicised case heard this month at the high court, the church claimed that it is not "vicariously liable" for priests' actions. The church has employed the argument in the past but this was the first time it had been used in open court and a ruling in the church's favour would set a legal precedent.
The use of the defence raises further questions about the church's willingness to accept culpability for abuse. It follows a damning report into abuse at the diocese of Cloyne in Ireland which prompted the Irish president, Mary McAleese, to call on leaders of the church "to urgently reflect on how, by coherent and effective action, it can restore public trust and confidence in its stated objective of putting children first".
Those planning to bring claims in relation to the high court case expressed dismay. "As children, we weren't given an innocent, carefree and safe environment," said one. "We weren't given a peaceful structure in which to grow and develop normally. By some miracle, some of us are still here to voice the words of so many who can't. Only a small number of victims ever come forward. The full potential of who we could have been as adults has been stolen."