By James Ball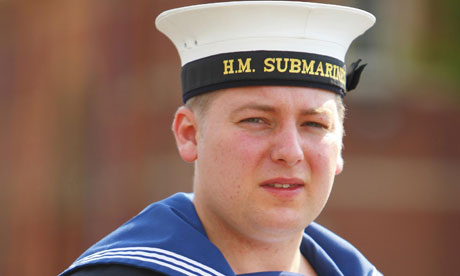 Michael Lyons (right) was found guilty of disobeying a lawful order at a military hearing in Plymouth. Photograph: Chris Ison/PA
Michael Lyons sentenced to seven months' detention after developing moral objections to Afghanistan conflict
A Royal Navy medic has been sentenced to seven months' detention for refusing rifle training prior to deployment in Afghanistan after developing moral objections, following revelations made by WikiLeaks.
Michael Lyons, 25, was found guilty of wilful disobedience of a lawful order at a military hearing on Tuesday. He had served since 2005 as a medical assistant submariner. He was demoted and dismissed from the navy.
Lyons's case had been the first heard since 1996 by the Advisory Committee on Conscientious Objectors, which considers appeals from serving forces personnel to resign or retire on moral grounds. His was one of only 37 cases considered by the committee in its 41-year life. The committee rejected Lyons's appeal for conscientious objector status in December, leading to Tuesday's hearing.
The court martial, at Portsmouth naval base, heard that on 20 September 2010, Lyons refused pre-deployment assault rifle training, repeatedly requesting to be assigned to a non-combat role.
Speaking in court, Lyons confirmed he had no physical or mental impairment preventing him following orders, but had chosen to disobey orders based on his personal convictions.