By Jamie Doward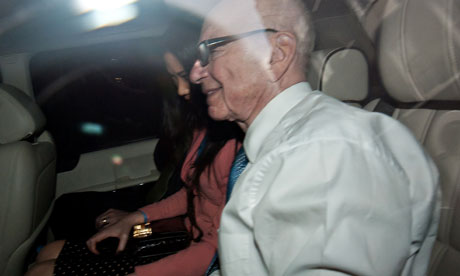 As David Cameron and Gordon Brown turn on their former News International ally over the phone-hacking scandal, Tony Blair's reluctance to join the condemnation is raising questions.
Wendi Deng holds Rupert Murdoch's hand as they arrive back at his London home after giving evidence to a parliamentary select committee on the phone-hacking scandal. Photograph: Ki Price/AFP
The speed of Wendi Deng Murdoch's right hook, to stop a protester during her husband Rupert Murdoch's testimony to MPs, caused a stir around the world. Two particularly admiring onlookers of the must-see TV moment are likely to have been the Murdochs' increasingly close friends, Tony and Cherie Blair.
Blair's reluctance to speak out against Murdoch over the phone-hacking affair will undoubtedly bolster accusations that he has been compromised by his close ties with the media tycoon and his wife. The former prime minister recently played down claims he had been a target of a private investigator working for the News of the World, saying he did not have a mobile phone while in office.
But there is evidence his personal details may have been targeted by people working for the paper, according to those familiar with the police investigation. Similarly, the Observer has learned there are allegations the phone of his wife, Cherie, was intercepted.
When asked for a response to the allegations, a spokesman for the couple repeatedly declined to comment.