By Kurt Nimmo / Infowars.com
The Greek government is prepared to lean on property owners as the nation faces default and anti-austerity demonstrations once again turn violent. A new tax will be imposed on monthly electric bills and would average about €4 per square meter and range between 50 cents and €10 depending on the neighborhood, according to the Wall Street Journal.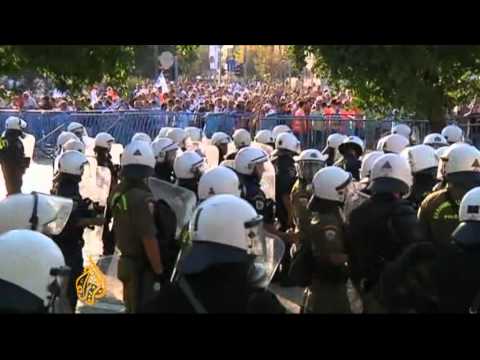 IMF austerity riot in Greece's second-largest city of Thessaloniki on Saturday.
The new tax is an attempt to meet the demands of the European Commission, International Monetary Fund and European Central Bank to cut spending and tax Greek citizens to pay down a national debt exacerbated by hedge funds and financial speculation.
In order to send the appropriate message to the so-called troika of central bankers, the Greek government has decided to to expedite a parliamentary vote on its 2012 budget. Greece's parliament usually votes on a new budget at the end of December, but foreign bankers are demanding democratic procedures be ignored and an "overhaul" of the country's tax system commence posthaste. Eurocrats have bluntly stated that the country's tax system will be weaponized.