Claims backed by survey showing that 70% of Israelis believe country should accept decision if UN votes in favour of move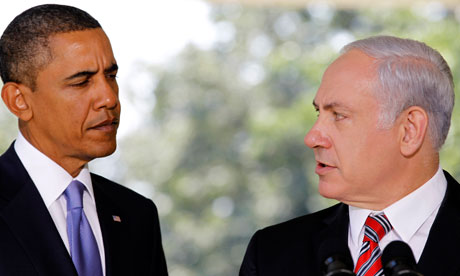 Barack Obama with Israeli prime minister Benjamin Netanyahu. Neither of the
leaders
support calls for a Palestinian state. Photograph: Jason Reed/Reuters
It is the exact spot where the new sovereign state was declared. But the year was 1948 and the state was Israel.
Now new officers in the Israeli army are brought to Independence Hall on Rothschild Boulevard in Tel Aviv as part of their education in the history of the Jewish state.
On the day before Mahmoud Abbas was expected to launch his bid for a Palestinian state, guide Amir Rimon 28, was lecturing a group of young soldiers under one of Rothschild's broad ficus trees.
"We come [here] to remind ourselves of the values on which our state was founded," he said. The Declaration of Independence, read by David Ben-Gurion 63 years ago, said Palestinians would be equals in the fledgling country.