By Riazat Butt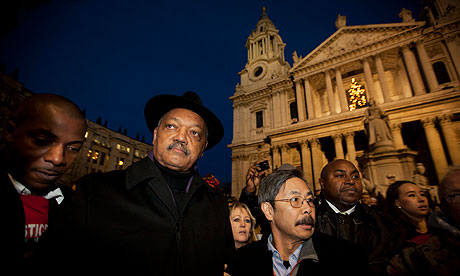 Lawyers to tell high court Occupy London protest camp 'setting rules and policing behaviour' in churchyard
Right: US civil rights leader Jesse Jackson has been among the high profile visitors to the St Paul's Occupy London camp. Photograph: Sean Smith for the Guardian
The City of London Corporation has lost control of St Paul's Cathedral, the high court will hear tomorrow, with members of an activist camp "setting rules and policing behaviour" in the churchyard.
A trial, lasting up to four days, will determine whether Occupy London protesters can stay on the land outside the building or not.
The movement is fighting the corporation's eviction attempts. It says members are engaging in Article 10 and Article 11 of the Human Rights Act – freedom of expression and freedom of assembly – and has produced several defendants to contest the corporation's claims in court.