By Henry McDonald in Dublin
Report into church's handling of child abuse scandals recommends new vetting procedures for clergy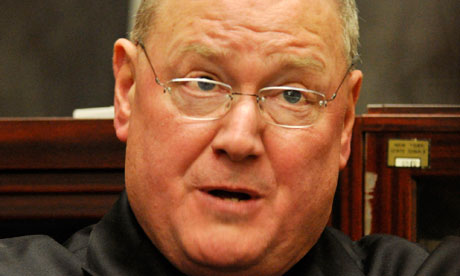 Cardinal Timothy Dolan, the archbishop of New York, who led the investigation into child abuse in the Irish Catholic church. Photograph: Stewart Cairns/AP
Every trainee Catholic priest in Ireland must attend child protection classes, the Vatican has recommended in a major report on how the church handled the republic's clerical abuse scandals.
Vatican Radio released the findings of the Holy See's widespread investigation into seminaries and dioceses across the island of Ireland. It was ordered directly by Pope Benedict XVI as Rome sought to address the child abuse crisis that has severely undermined its reputation and authority in the republic.
The apostolic visitation led by the archbishop of New York, Cardinal Timothy Dolan, noted that there had been some "progressive steps" towards reforming church structures and in particular the handling of allegations of child abuse. Several Irish judicial inquiries found the Catholic hierarchy had covered up allegations of abuse, often by moving accused priests to other dioceses or even out of the country.
The Vatican proposed new restrictions and vetting procedures on entrance to seminaries for priests, and new child protection training for all would-be clergy in Ireland.
It has also recommended restructuring the number of dioceses in Ireland as part of the church's internal reforms, although at this stage it gave no details on how many dioceses would be merged.
Bill Bard says:
Just window dressing for the unenlightened.